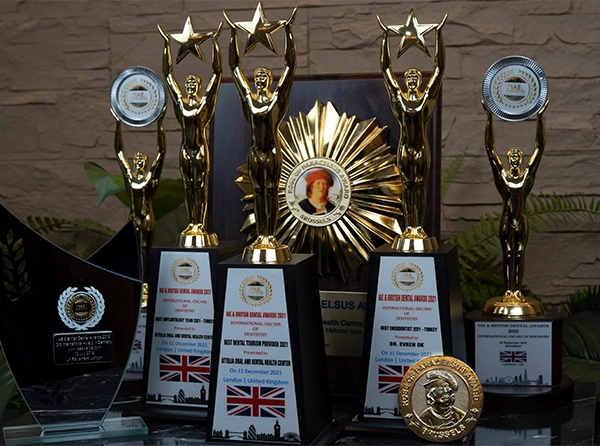 "Attelia", the pioneering clinic that launched global dental tourism in Antalya
Attelia, Antalya's pioneering dental clinic, has taken a big step forward as the first clinic to launch global dental tourism in the region. Attelia's innovative approach and healthcare solutions meeting international standards have contributed to Antalya becoming an internationally preferred destination for dental health.Türkiye is one of the most important locations with considerable experience and capability in the world market in the field of medical tourism. The Government of Türkiye has issued mandatory regulations in the field of medical tourism, which were first introduced in 2011 and then revised according to the needs of the sector. One of the most binding of these regulations is the obligation to obtain a health tourism authorisation certificate for all clinics that will receive patients from abroad.
Although there are strict attitudes of rule-setting institutions such as the provincial health directorate or locally such as the quality system supervision in health and the obligation to obtain these documents in order to be able to perform health tourism in Türkiye, it can sometimes be observed that there are some flexibilities in terms of implementation in the field.In order to eliminate these flexibilities in the field locally and to establish and maintain quality standardisation on an international scale, some accreditations are required.
In order to ensure international standardisation and to provide the highest quality service to patients, Attelia not only meets all the criteria set by the Turkish Ministry of Health, but also goes beyond many other clinics, working with independent auditors to report and with the outputs of these reports, it has managed to become a pioneering clinic in Türkiye aiming to provide better service by improving itself day by day. Our International TEMOS accreditation, Diplomatic council certificate, local and international awards, which we have received in this process and proudly present, can confidently refer us to our patients all over the world.
We have developed our ability to be constantly innovative, artistic and craftsman thanks to the "Attelia Academy"
Another very important issue is the national and international success of our team. The fact that we are able to follow the current literature thanks to our academy on issues that will directly affect patient health, such as the quality and certifications of our team, the follow-up and continuity of lifelong education processes, from every diagnosis made to the patient to the diversity and success of treatment, has enabled us to grow and gain respect in the international arena.
Trainings that will enable our technical staff and physicians to gain competence are carried out in our own academy. In order for our physicians and technical staff to follow the current literature in their advanced specialities, esteemed academicians with international reputation in their fields are invited and both theoretical and practical trainings are carried out to ensure the continuity of success.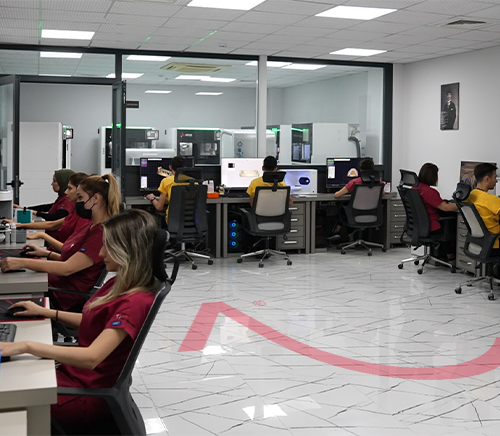 The highest quality dental materials recognised worldwide are combined with the finest workmanship in Attelia In-House Laboratories
One of the strengths we emphasize with great care in our international exhibitions, presentations, and communications, and rightly consider as one of our strongest points compared to our global competitors, is the presence of an in-house laboratory with a robust technological infrastructure. The reason being, having our laboratory in-house enables us to meticulously monitor the quality process of the produced restorations, manage the origin and quality of the materials used in restoration production, and provide our overseas patients with maximum efficiency professional solutions in the limited time they can spend here. Our laboratory, equipped with all kinds of innovative technological infrastructure, can also be seamlessly integrated by our doctors, bringing together a highly comfortable service for our patients under one roof. This is one of the primary reasons why Attelia is preferred by international patients.
Our expertise in performing operations under General Anaesthesia is made possible by Attelia's strong infrastructure
Speaking of comfort for patients, our general anaesthesia service with dental chair, which can be provided by very few facilities in Türkiye, can be safely applied in many patients with dental phobia, systemic disorders, and nausea reflex. Due to these reasons and concerns, we also treat our patients who have not been able to receive dental treatment services in any way until now and restore their health by treating them with general anaesthesia.
Attelia does not prefer franchising model in accordance with its values and mission
Unlike many other health institutions, we, as Attelia, make our own investments in order not to compromise our quality principles and patient satisfaction and we do not look favourably on the franchising system. Since 2000, Attelia has been providing services to local and foreign patients at international standards by integrating continuously developing health technologies into its structure and succeeding in gathering experienced dentists and competent health personnel under a single roof. We have achieved optimum quality thanks to the experience we have gained over the years, our investments in health technologies and the accreditations and awards we have been awarded in the field of dental health.
The most significant obstacle of the franchising system is to maintain quality and patient satisfaction at an optimum level. We do not use the franchising system to ensure that our service quality and patient satisfaction are sustainable at the best level.
When we look at all these issues in the light of science; retrospective patient follow-ups, our clinical and patient experiences have shown that we have entered a new era that requires quality materials, quality workmanship in the production process and the professional application of these high-tech restorations on the patient and providing the best possible outcome for them, rather than what is cheap.
We strive to offer you the best quality at more affordable costs
It is among our greatest assets to be able to offer the highest quality to our patients at the most affordable costs. In order to realise this mission, we carefully shape our price policies.
We use the most superior products of globally recognised and accepted brands to guarantee quality. At this point, we achieve advantageous prices by making special agreements with brands to reduce costs. Thanks to our large investments in wholesale supply chains and strategic partnerships, we optimise the supply of materials, so that we can offer you dental materials with higher costs at competitive prices.
Attelia Guarantees You Quality!
Even if you prefer a different clinic, please question the brand and quality of the material used, whether it is a by-product, be sure to request the warranty cards and certificates of the products and confirm that they are made of first-class materials.
With the strength we get from our values that our mission has given us, we aim to provide you with the best service since 2000! And we aim to provide you with the best service for many years to come.
Thank you for your time and we wish you to have healthy and happy smiles all your life.
ATTELIA TEAM